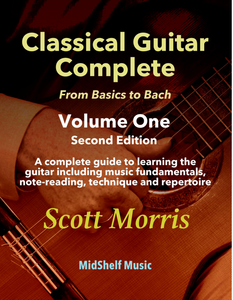 Classical Guitar Complete (description of the First Edition):
From Basics to Bach is the product of over a decade spent teaching college and university guitar classes and students. CGC begins with an overview of basic technique as well as advice on buying and instrument, nail care and accessories. The book also addresses the importance of music fundamentals and note-reading with an introduction to basic theory. Morris takes the student through open strings, lower positions, chords, arpeggios, scales and slurs with a treasure-trove of wonderful music from the Renaissance, Baroque, Classical and Romantic periods. Historical and biographical information is supplied for composers, giving students context and an appreciation of the instrument's rich and varied past. Quizzes at the end of each chapter make it ideal for classroom guitar as well as private study. Nearly 30 audio samples from the book, played by Morris, are available online at no cost for students to hear and study. 


What's new in the Second Edition:
This second and expanded edition of Classical Guitar Complete (Volume One) contains all of the information that made the first edition so popular with guitarists and teachers as well as 40+ pages of new content. The second edition starts at the beginning, with clear and concise instructions regarding basic technique and reading music with quizzes at the end of each chapter to test the student's retention. It goes on to explain concepts such as sympathetic and opposing motion for the right hand, chords, scales, arpeggios, slurs, and more. All of the photos are also new and much more detailed in showing proper hand movement and position. There are dozens of complete pieces of music to learn for solo guitar and a sample piece from the upcoming Classical Guitar Complete: Ensemble Anthology.
Includes an instructional CD (sold separately w/ digital book) demonstrating the musical examples in the book.